Training Program
A group from UQAC* has developed the training program for the Grand défi Pierre Lavoie* 1000 KM event. The Clinique universitaire de kinésiologie (University Clinic of Kinesiology) at UQAC is focused on allowing kinesiology students to acquire and consolidate their practical skills in evaluation, prescriptions, client approach, follow-up of kinesiology cases and to apply the theoretical knowledge acquired.
Download the 1000 KM training program (in French only).
Documents pertinents à télécharger:
Nutrition Guide (in French only)
Cycling, even in winter!
The growing market for home training bases makes it easy for you to ride all year-round, even in the off-season! Setting aside a few hours of your time to cycle 2 or 3 times a week at home is a simple, effective and motivating way to improve your fitness to meet the challenge!
If you have a smart training base, download the Zwift application and train, live, with your 1000 KM team and with your cycling friends!
Staying active, differently
Ideally, for optimal preparation, we recommend cycling, even in winter (on a training base, a stationary bike or a winter bike), but staying active through other endurance sports will be just as effective for your 1000 KM preparation. For example, cross-country skiing, swimming, running, hiking and skating are all accessible and suitable sports to get fit for the 1000 KM.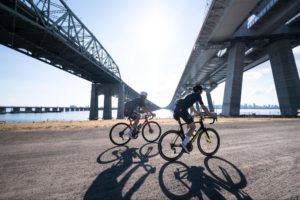 * Creators of this program : Frédérique Lehouillier, Maxime St-Pierre, Anne Marie Fortin and Laurie Simard (all certified kinesiologists), Jude Dufour (High-level coach from the Institut national du sport du Québec, trainer with Cycling Canada and SPORTS Québec for the National Coaching Certification Program), Martin Lavallière (Professor of Kinesiology at UQAC) and Tommy Chevrette (Professor of Kinesiology at UQAC and Director of the Clinique universitaire de kinésiologie at UQAC).