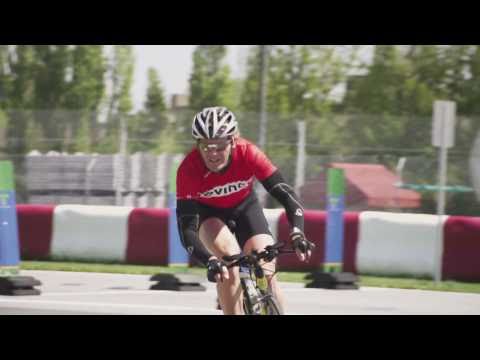 "Losing a child is like freefalling without ever touching the ground. You lose all your reference points and you hurt everywhere."
In 1997, Pierre was 34 years old when he lost his daughter Laurie to lactic acidosis, a rare hereditary illness especially present in the Saguenay–Lac-Saint-Jean region. In 2000, his son Raphaël also died from the disease.
The year Raphaël was born, in 1998, ten other children were born with lactic acidosis in the region. Pierre could not idly stand by while this disease was wreaking havoc. He devoted all his energy to raising awareness of this deadly condition among people in his region and to funding medical research. Having been a determined athlete up until then (he had already participated several times in the Hawaii Ironman), Pierre became an engaged athlete.
In 1999, he launched the first Défi Pierre Lavoie in Saguenay–Lac-Saint-Jean (cycling across 650 km in 24 hours), a feat that he repeated three times. With his Défi, Pierre managed to collect funds to form a multidisciplinary team of researchers at the Université du Québec à Chicoutimi. Important breakthroughs were made, and the gene responsible for lactic acidosis was finally found in 2003. A screening test was also developed, thereby giving hope to future parents.
His meeting with Germain Thibault in 1999 was decisive. Both of them devoted themselves body and soul to an ambitious project aiming to encourage the province's elementary school pupils, as well as the general population, to adopt healthy life habits. Launched in 2008, the Grand défi Pierre Lavoie has been a huge success.
While he has added strings to his bow over the years—as a speaker, science popularizer, spokesperson and media personality—, Pierre remains above all a fierce competitor to the core. In October 2010, he completed his ninth Ironman in Hawaii, where he finished third in his category. To this day, he has won this competition three times.
Pierre knows how to make the most of his exceptional journey to motivate people. With his extraordinary life story, his incredible strength and his communication skills, without fail, he transmits his creative energy to those around him and convinces us it is always possible to overcome challenges when we face them with the right attitude. Always setting new targets for himself, he is a lesson of courage and respect.
Social involvement
President of the Association de l'acidose lactique
Founder of the Club cycliste acidose lactique for 10- to 17-year-olds
Founder of the Défi Pierre Lavoie, which has raised $650,000 in four editions for lactic acidosis research
Co-founder of the Grand défi Pierre Lavoie
Awards
2005 – Member of the Ordre des 21
2005 – Personality of the year, Humanism, courage and accomplishment category, La Presse Excellence gala
2005 – Meritorious Service Medal from the Governor General of Canada
2006 – Knight of the Ordre national du Québec
2009 – Personality of the year, Humanism, courage and accomplishment category, La Presse/Radio-Canada excellence gala
2010 – Honorary doctorate from the Université du Québec à Chicoutimi
2010 – Recipient of a Maurice de l'Hommage Jacques-Beauchamp award, SPORTSQUÉBEC gala
2011 – Medal of Honour of the National Assembly
2011 – Gold modal of the Ordre du mérite de la Fédération des commissions scolaires du Québec
2011 – Medal of Honour of the Faculté de médecine de l'Université de Montréal